Get SEO Superpowers with SEO Ultimate PRO
A WordPress SEO Plugin to Supercharge Rankings, Visibility & Traffic
SEO Ultimate PRO is an All-In-One WordPress Plugin designed to increase rankings and get more traffic from search engines.
SEO Ultimate conveniently combines dozens of powerful features (called modules that are like individual plugins themselves) under one dashboard to seamlessly optimize your website.
Now you can easily implement advanced SEO tactics such as Content Siloing through Site Architecture, add Structured Markup (and Semantic Tags) to stand out with Rich Snippets, optimize OpenGraph (to look better on social networks), Add XML Sitemaps (to index new content in Google), Automate Internal Linking (to increase rankings for specific keywords), mass-edit and Optimize Images (with ALT attributes for image search), Mass-Edit Meta Titles & Descriptions, Canonical Tags, and Meta Robots tags (up to 100 pages at once to save time) & so much more…
Here's a look at some of the powerful new features inside the dashboard.
Why use 20 Plugins for WordPress SEO When You Can Do Everything With Just One?
Whether you're an agency, a business owner, an entrepreneur or have an E-commerce storefront, SEO Ultimate PRO has EVERYTHING YOU NEED to optimize your website and outrank your competition.
You either have enough traffic or your don't and nothing converts like getting targeted visitors that are searching for products and services like yours to YOUR website vs. your competitors.
SEO Ultimate can help…
Get the latest new features available exclusively inside the Premium Version of SEO Ultimate PRO to get the jump on your competition. Optimize your website with:
22 Types of Structured Data & Schema for Rich Snippets (with Schema Guard*)

*New Import / Export to CSV Functionality for Modules (Massive Time-saver)

The Website Silo Builder to Organize Your Site Architecture and Content into Themes

The Semantic Tag Editor to Create a Structured Data Vocabulary for your Content.

The Global Canonical Manager (New!)

The Alt Attribute Mass Editor for Images

Improved Open Graph Options for Social Networks

The Code Inserter+ Module

Both HTML and XML Sitemaps

The SEO Data Transporter (Imports Settings from Yoast or Other SEO Plugins).

and Dozens of other powerful and unique features… like 404 monitoring, link masking (for affiliate links), a file editor (to edit .htaccess), bulk-editors to mass edit meta robots, no follow and robots.txt and much more.
Ease of Use: Rather than trying to manage 30 plugins to SEO WordPress, save time and streamline everything from one dashboard with this powerful All-In-One plugin.

Exclusive Updates: All new features will be added exclusively to SEO Ultimate PRO since we discontinued all support and updates for the FREE version of the plugin on Jan. 1, 2017.

Premium Support – You'll enjoy quick, responsive one-on-one premium support from our team to help you diagnose or fix issues quickly as they arise.
Licenses include updates, premium support is renewable annually. The cost for each license type is listed below:
Single Site – $49/Year.
Up to 3 Sites – $89/Year.
Up to 10 Sites – $147/Year.
Up to 200 Sites – $497/Year.
400 Site License – $997/Year.
[Great for Agencies]
You will require a site license for activating and unlocking the plugin.
Licenses can be deactivated and moved to other domains, however, if you plan to use the plugin on more than one domain, you should purchase additional licenses. You can do so from your my-account page at any time.
Powerful Rich Snippets: Add 22 types of valid structured markup for local business, people, places, organization, reviews, article, news article, blog post, courses, recipes, events, products, software and video without coding.

Open Graph: Optimize your content for social networks with ease with the Open Graph+ module.

More Features: Over 30 modules to increase performance and enhance rankings ranging from Alt Attributes, HTML and XML sitemaps, Robots Meta, Rel="prev" and "next" pagination options, WPML, internal linking and more. See All Features.
Over 2 Million Downloads and Counting…
Great Plugin! This plugin is awesome… and the possibility of activating only the modules you want to use is great.
Easier to Use Than Yoast: Gave this a try after I experienced a number of glitches with Yoast, which is usually my go-to SEO plugin. My first experience has been very positive – the bulk meta description editor, in particular, works much better than the Yoast equivalent.
Easy to Use & Effective! Very easy to use and saves A LOT of time when re-doing internal link structures for my website.
10 Traffic-Boosting Reasons to Purchase Now!
Exclusive Updates & Premium Support – Get premium one-on-one support with SEO Ultimate PRO. No waiting in the forums, you get your support questions answered and issues dealt within the same day.


---

More Powerful Features – Get exclusive features like OpenGraph+ which allows you to easily customize how your site looks when shared on social networks. You can add 22 types of Structured Data / Rich Snippets for Local Business, Events, Recipes, Software, People, Places, Organization and Video and more and mass-edit pages, posts and custom post types up to 100 entries at a time.


---

An SEO Data Importer – In just a few clicks you can Import your data from the Yoast Plugin, All in One SEO Pack and other popular plugins and themes.


---

A Sitemap Creator – Yes! It has sitemaps… based on your requests, we've added both HTML and XML sitemaps to the plugin.


---

The New Code Inserter+ – The new Code Inserter+ Module allows you to easily add various types of code in WP including HTML, analytics, JSON-LD and more to any page, post or custom post type in the header, above content, below content or footer areas.


---

The ALT Attribute Editor – Now you can easily mass-edit alt attributes with ease to add titles and descriptions to your images so that search engines score your pages higher and know how to tag images for search.


---

The Global Canonical Manager – The new Global Canonical Manager allows you to manage canonical URLs (up to 100 pages at a time) from one page to conveniently add a canonical URL to any page, post or post type.


---

UX Improvements – We've made dozens of improvements to the user interface based on user feedback via support tickets, work-flow optimization and common sense.


---

Previously Unreleased Functionality – Enjoy powerful new features like the Global Canonical Manager to mass edit canonical tags on pages, posts and post types, HREFLANG support and rel="previous" and rel="next" Pagination for interlinking series of documents, products or silos and we've even added new mass-editing meta robots initiatives like noarchive and nosnippet.


---

Comprehensive Bonus Training – Ever want to know how to use every feature of this powerful plugin? Well, now you can. You'll be guided through every step with power tips for PROS to increase rankings. For a limited time, you can get access to our professional 17-Point Optimization Checklist that shows you the exact same steps that we actually use when configuring the plugin for our clients. This bonus training absolutely invaluable.
Click here to See All Features

With over 2,000,000 downloads and counting, It's everything you ever wanted in a
SEO Plugin for WordPress
GET Pixel-Perfect Control Over How Your Site Looks When People Share it On Social Networks with Open Gragh+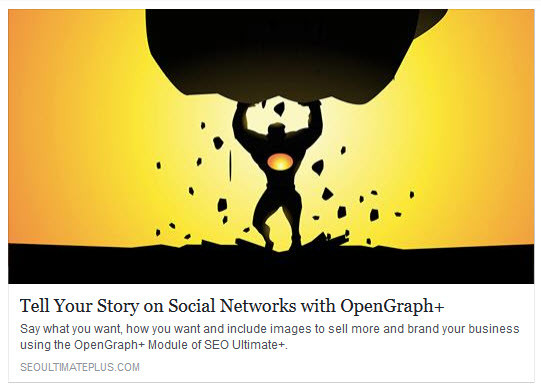 This is an example of the OpenGraph+ module when shared on Facebook.
With SEO Ultimate OpenGraph+ Module, now you can control the exact titles, images, and descriptions that you want to be displayed for your pages and posts on Facebook, Twitter, Google+ and others.
In 2010, Facebook created an HTML protocol called Open Graph that allows you to showcase your preferred titles, descriptions and images on pages and posts in social networks.
1) You could learn to code and spend hours scouring code snippet library's from Facebook and adding the code page-by-page to your WordPress installation… or
2) Use the new OpenGraph+ Module and edit up to 100 pages at once (using the mass-editor) to optimize your content for Social Networks.
This plugin makes it easy to add OpenGraph markup to WordPress and allows you to control precisely what your content looks like when people share it.

Now You Can Instantly Add 22 Types of Valid Schema Markup for Local Business, Reviews, Recipes and More Without Coding

We've recently added additional structured markup for Article, News Article, Blog Posting and Course schema types in addition to the others above.
It's Everything You Need to Optimize Your Site with Rich-Snippets, Schema and Open Graph Markup (Including Facebook and Twitter) Quickly and Easily.
So, what are you waiting for? Sitemaps, Rich Snippets, Open Graph, Autolinks, an Alt Attribute Editor…and so much more.
If you want your website to rank higher in search results, you need to do more than just add keywords or edit your meta title and descriptions. You need a comprehensive all-in-one plugin (other than YOAST SEO) that can help you implement all the advanced features with ease.
Rather than having to think about the confusing tangle of dozens of different WordPress plugins you'd have to use to do all this…and then cross your fingers they play nicely together, you can do everything you need from one dashboard.
Don't waste precious time on tasks that should be quick and simple, install SEO Ultimate PRO and put battle-tested search engine optimization and Social media features to work on your WordPress website today.
You'll be glad you did.
See Why It's The Best WordPress Search Engine Optimization Plugin


100% Satisfaction Guaranteed!
We've helped hundreds of thousands of webmasters get higher rankings in search engines since 2007. Now, it's your turn to get battle-tested results with SEO Ultimate PRO.
As others have said (and from my experience) this is the best SEO plugin I've found so far. Does everything I need it to and setup is straight-forward. This gets a lot of use in our office.
This is the best SEO by far. I have just paid for the newest paid version and it is amazing. It saves me hours and hours of coding specific schema and silo sculpting. Nothing else comes close!
I use this tool on every WordPress site I manage for the firm I work at. It's absolutely great, and it's the best one I've used to date.
Frequently Asked Questions!
Q: What If I Need a Refund?
A: We have a 30 day – no questions asked – refund policy for all products. There are ZERO risks!
Q: Can I Keep Using the other Versions of SEO Ultimate?
A: Yes you could, however, it is not advisable, as we will not be providing support, updates or downloads for the FREE or + version. So, to ensure that you are using the latest secure version, we suggest you upgrade to the premium / PRO version to get future updates and support.
Q: Can I Get Support for the Premium Version?
A: Yes! If you experience any problems whatsoever, you can log in, create a ticket and get lightning-fast dedicated one-on-one support to resolve the issue quickly.
Q: Will My Current Settings Be Saved?
A: Yes! If you are using the SEO Ultimate+ and you upgrade, all of your legacy settings (with the exception of the Rich Snippets) will be imported automatically into SEO Ultimate PRO! Why? Because Google is always changing required fields so, we've upgraded the format for structured data and any legacy settings you have (you will be able to export in a notepad) to add back in as well as update any new required fields for schema to validate.
Q: Can I Import Settings from Other Plugins and Themes?
A: Yes! You can import settings from plugins like the Yoast WordPress Plugin, All in One SEO Pack and others as well as themes like Genesis, Headway and more.
Q: Has SEO Ultimate PRO Been Tested with the Latest Version of WordPress?
A: Yes! The Premium Version has been tested and works perfectly with the latest version of WordPress 5+ and PHP 7+. In addition, we update SEO Ultimate PRO regularly with new features and bugfixes.
Q: Do I Have to Renew My Site Licenses Yearly?
A: Yes! Licenses are required to renew annually. The annual fee ensures that the plugin continually gets new functionality, has support, remains actively developed, and code maintained.
We are so confident that you are going to be absolutely delighted with this software, that if for any reason you are not completely satisfied, just let us know and we will promptly refund your money as part of our hassle-free, 30-day money back guarantee.

100% Satisfaction Guaranteed!
Here's How to Order
Click the button above to upgrade to the premium version now.
Next, on the product page you can choose the number of site licenses you want and after you checkout with PayPal or credit card, you'll receive instant access to the download and license key, detailed installation instructions and comprehensive video training.